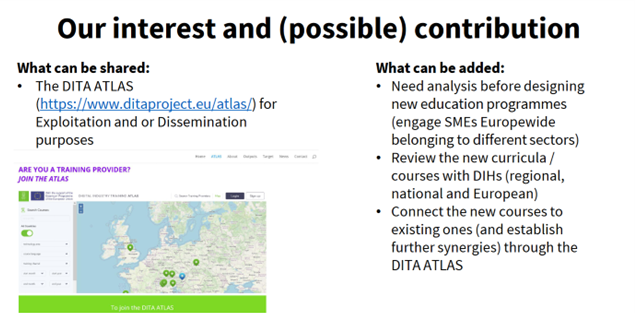 The Processes4Planet Event was an occasion to present the DITA Atlas sustainable evolution, considering the challenges related to the circularity in value chains and digital production. The Processes4Planet event brought together European companies from more than 10 different sectors (chemicals, minerals, water, pulp and paper, etc.). This was a unique opportunity to get A.SPIRE's perspective on the future topics that will be launched shortly and to generate new business contacts and potential opportunities to cooperate in the upcoming calls.
The Partner for DIGITAL Skills 3 Infoday was an occasion to present the third round of DIGITAL Europe Programme calls, with up to 56 million euros to design Bachelor's and Master's courses in digital domains such as cybersecurity, internet of things, blockchain, artificial intelligence, and Multi-disciplinary courses empowering professionals in non-ICT sectors with digital skills. The DITA Atlas was presented for its added value as a platform to boost connection, create networking opportunities among European training providers, to partner-up and design new courses and programmes in the digital transformation.
Do you want to know more about the DITA Atlas?